Chevron kits - Why mark?

• Reassures and motivates the workforce to know that your business takes their safety seriously and to meet the highly recommended best practice guidance of TSM Chapter 8.
• Fewer accidents mean less downtime, less contracts missed and savings on repair costs.
• Protect your company against potential legal action related to third party safety.
• Conspicuity markings can reduce accidents, can save lives and improve the visibility of the vehicle.
What materials should I be using and how are they used?
There are different materials that are recommended for vehicles stopping to carry out works on roads either 40mph and below or above 40mph. Click the material guide to view our easy to download PDF!
Our Chapter 8 kits are supplied edge sealed which stops all dirt and water penetration to the cells in the panel ensuring there is no block to the lightsource.
This keeps the reflective to the proper standard for it's intended purpose.
Our easy application guide walks you through the dos and don'ts when applying and caring for your vehicles kit. One is included with every order. click the image to the left to download the PDF version
of our application guide.
Every kit we produce meets the standards set by REMA in manufacture, sealing and installation. Click the image to the left to learn more about REMA's
specific material requirements.

Ready made kits
• All kits come with individually cut panels which are pre-masked for ease of fitting.
• All kits are made to order, we have a vast library of vehicle models, all compliant with Chapter 8.
• Each kit will have a unique number. Quote this when requesting replacement panels.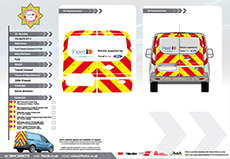 Need replacement panels?
You can buy individual kit panels to replaced damaged ones. Simply find the vehicle you need from your saved fleet and select the panel you require.
Mysignworks NW Ltd offer a number of
kit options, these are:
Half rear coverage
Full coverage
Full coverage with windows

Bespoke kit options include:
Wide load
Abnormal load
Escort Vehicle
Customer specific
Magnet kits
Flood coated kits
| | |
| --- | --- |
| | 3M DG3 comes with Assured Seal |
| | Nikkalite Crystal Grade comes with AdvantEdge |